I love saving money. I love a good deal. I love a discount. Sometimes a good coupon is sufficient, but a coupon requires me saving it, holding onto it and remembering it when I actually go to purchase something. I really prefer good deals that don't require me to do much extra work.
I've tried and signed up for several programs over the past several years. Here are a few of my favorites that I continue to use on a daily/weekly/monthly basis.
Current Lifetime Savings: $69.41
Don't ask me how to pronounce that. In my head, it's "raccoon". Formerly known as eBates, the Rakuten program touts cash back on purchases. So, you only earn if you spend. Still, if you're already buying the stuff, might as well get cashback, right?
Step 1: Create an account with Rakuten. By clicking this link, you will receive $10 for free. Sign up!
Step 2: Add Rakuten to your desktop browser. Rakuten offers two ways to track your spending. The easiest is through an Extension you install in your Chrome browser. Download the extension.
Step 3: Download their mobile app.
What I use Rakuten for:
Lyft: If I'm ordering a lyft, I first open the Rakuten app on my phone and click Lyft in the app. Rakuten then opens the Lyft app on my phone. I receive $0.20 back on every Lyft ride I do this for.
(If you're new to Lyft, you'll receive a $10 cash bonus when you sign up with Lyft and take your first ride within two weeks.)
Any online purchase: I use the Rakuten chrome plugin to check for any discount codes before purchasing. Sometimes it saves me a lot of money. Sometimes the offer I had previously saved me more. You just gotta keep an eye on it.
Kohls: Kohls allows coupon stacking, so Rakuten is perfect for this.
Flowers: Rakuten allows you to quickly see all the discounts at several flower stores like 1-800-Flowers, Teleflora, FTD, ProFlowers etc. Current cashback on these ranges between 8% – 18% cash back depending on which retailer you shop at.
How you get your money:
Actual cash. Rakuten sends you your money on a set time schedule.
You can request a check, PayPal or American Express Membership Rewards Points.
Current Lifetime Savings: $140.96
This is my favorite money-saving app hands down. I signed up for this back in 2017, I believe, or sooner. Back then, I'd heard about the app, downloaded it, but there weren't any gas stations in the Jacksonville, FL area participating. Fast forward to now, it's rare I go somewhere that there isn't a gas station on the map at a reasonable distance.
The way I see it is, you're going to get gas anyways. Might as well get some money back from that purchase. There's gas stations all over that participate including Shell, so I rarely have to go out of my way to find a deal on the map.
On the way to get gas, I check the app for local gas stations and select the one I want. After I get gas, I just request a receipt and before I drive off, I snap a picture of the receipt in the app. It takes maybe a max of one minute out of my day.
They've recently begun testing 'check ins'. I've done a few of these so far. All you do is connect your credit card to your GetUpside account. Then when you go to get gas, check in on the app and use that card. As long as you were within a certain distance of that gas station and used that card, your account is automatically credited. No receipt scanning required.
Plus if your friends sign up, you get a bonus plus a percentage of each purchase they make. If you're friends have a friend sign up, you get a percentage of each purchase THEY make. That's it though. It only goes 2 friends deep so it's not a full pyramid scam. Phew.
Download the app today. If you sign up through my link, you will receive an extra 20¢/gal cash back and an extra 20¢/gal cash back on your first use.
Step 1: Download the app.
Step 2: Find a gas station and claim it.
Step 3: Go get gas, upload your receipt and save!
How you get your money:
Actual cash. From their website:
"We apply a $1 fee for cashing out small dollar amounts.
Cash out fees will be waived for at higher cash out dollar amounts.
If you cash out with Paypal, there is a $1 fee for a cash out under $15.
If you cash out with a check, there is a $1 fee for a cash out under $50.
There are no fees to cash out to digital gift card, but you must have $10 and can only cash out round amounts, ie: $13, $22, etc.
However: if you refer one person and they are currently actively using the app, there is no fee for PayPal cash outs!"
Current Lifetime Savings: $84.25
Ibotta is a great app that really ties into my grocery shopping. I use it almost every time I go to Publix or Target. This app does take more time to use and utilize as you need to go through and select items you plan to shop for prior to shopping in order to get credit.
Some places, you need to upload a photo of your receipt similar to the GetUpside app. They recently released a partnership with Publix so all I do now is enter my phone number at checkout and everything is automatically digitally submitted. You just need to connect your accounts once, and it's set up.
One cool feature of Ibotta is the 'any items' coupons. There's almost always a grocery store receipt cash back of 10¢ to 20¢ per receipt.
Step 1: Download the app
Step 2: If offered, connect your account. (Like how I shop at Publix)
Step 3: Go shopping and save!
How you get your money:
Actual cash. (FYI the app says $12.50, but their website says $20)
Once you reach the withdrawal threshold of $20, there are two ways that you can withdraw your earnings:
You can withdraw your earnings by purchasing a gift card through the app. Some gift cards have a minimum purchase of $25.
You can withdraw your earnings by sending your money to your already linked PayPal account.
Current Lifetime Savings: $22.91
I never actually use Dosh. I do have my credit card connected and they surprise me with bonuses occasionally.
(Mom, skip to the next paragraph!) I just got my mom flowers for her birthday thru 1800Flowers which I purchased thru Rakuten. Since I used the card connected to my Dosh account, I got a Dosh bonus too! A $10.63 cash back bonus. (Hey! It's the thought that counts, right?)
It also works at a few restaurants, one of which isn't too far from my work and I have a coworker that likes to go there (Casbah Cafe). I automatically get 5% cash back when I dine there.
Google Opinion Rewards
Current Lifetime Savings: ~$10
Google Opinion Rewards is a simple survey app. Google will occasionally send super short surveys. This one is the most stalker-y big brother-y of all the apps because they will send you a survey right after you physically leave a retail establishment. Yes, it's super creepy. You only earn around 10¢-55¢ a survey. Yes, I still fill it out because I feel Google already knows the answer. They're just verifying that their stalkering skills are working. It's like getting paid to participate in a beta test you've automatically opted into that you can't opt out of. Might as well make a few bucks off my own data. Everyone else is.
How you get your money:
After you earn two dollars, you can withdraw that money to your paypal account.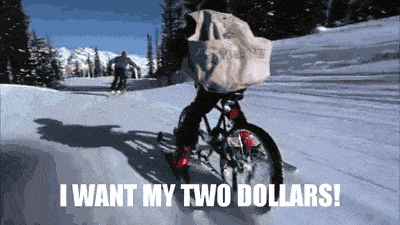 Just download it through the app store. There's no referral bonus or anything.
The mission of Achievement to enable people to contribute to research and uncover insights that could improve their health and the health of others.
You can connect 20+ popular apps and start earning points for activities such as walking, meditating, logging meals, and answering questions about yourself. Then for every 10,000 points you earn, you get $10 that you can donate to charity or redeem to your PayPal account. I set this up a while ago, forgot about it and recently got an email about my first redemption. No extra work needed!
Recap
I hope you found this helpful! If you did, please comment below!
If you didn't, bah humbug! 🙂